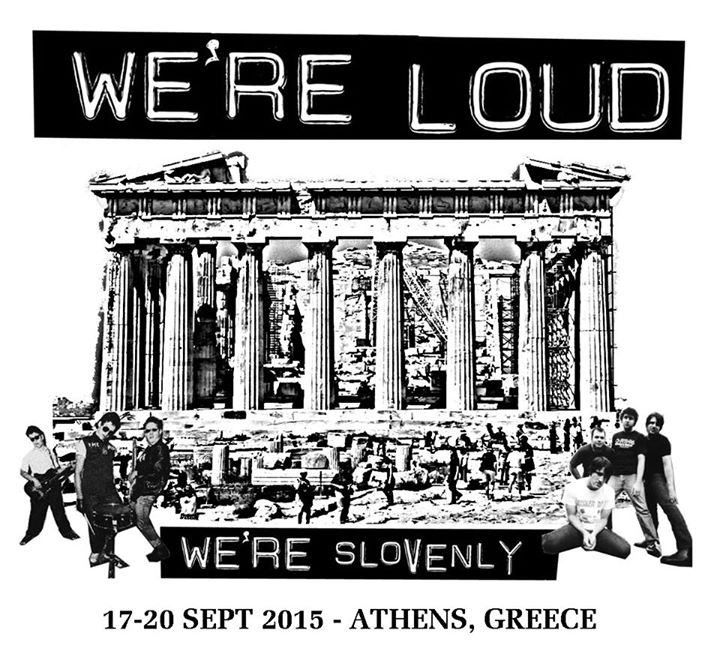 17-20 September 2015 in Athens, Greece!
A festival to celebrate 13 years of Slovenly (since 2002!)
and the release of the WE'RE LOUD -- 90s Cassette Punk Unknowns 2xLP!
THE LINEUP
17 Sept preparty @ AN CLUB
18-19 Main event @ KYTTARO
THE KIDS (be)
NEW BOMB TURKS (usa)
USELESS EATERS (usa)
ACID BABY JESUS (gr)
BAZOOKA (gr)
WAU & LOS ARRRGHS!!! (es)
AVENUE Z (fr)
THE RIPPERS (it)
LO-LITE (nl)
THEE OOPS (it)
SULTAN BATHERY (it)
BIKES (de)
MAGNETIX (fr)
KOMODINA3 (gr)
THE ANOMALYS (nl)
GAY ANNIVERSARY (gr)
* please note: this is not the exact order of the bands, and the lineup may change slightly, but this part won't: THE KIDS will play on Friday & NBT will play on Saturday!
20 september: hangover lunch with loads of Greek food & live rebetiko!
Afterparties on Thursday, Friday, and Saturday nights at BOILER with disc jockeys from all over the place! Thing with Two Heads (USA), Bone, Oihane Follones (Spain), Pete Slovenly (Earth), and the guys from New Bomb Turks!
TICKETS & MEMBERSHIP:
FRI+SAT 35€
THU+FRI+SAT 45€
THU+FRI+SAT+LUNCH ON SUNDAY 59€
THU+FRI+SAT+LUNCH+2xLP 79€

_________________
C'est Trop Tard.